Our Primary School follows a stringent British and Nigerian curriculum, allowing students to learn in a child-centered environment.
We provide classes in English Language, Speech Science, Arts, Mathematics, Science, Social Studies, History, Physical and Health Education, Visual Arts, ICT, and Creative Writing to build a well-rounded child.
Another notable feature of the Primary School is the weekly presentations they give at the assembly field, which help to develop their ICT and public speaking skills.
Our incredibly dedicated teachers, assistants, coaches, parents, and other support professionals help students reach their academic goals.
It's no surprise that our students frequently tell us that they've never attended a school like Merosa Academy.
School Heads and Mentors
Every child at Merosa Academy has a mentor who is a programme participant. Mentors are accessible to students and families at any time during the school year to chat about school or personal issues.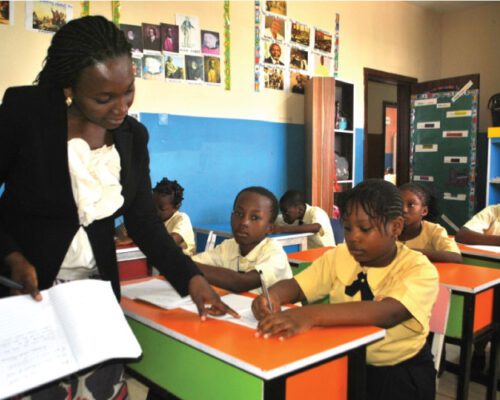 Merosa Academy's primary programme is centered on inspiring greatness. Our dedicated educators encourage and assist students as they strive for academic success, personal and social growth, and an enhanced curriculum that emphasizes leadership, character development, and service.
We believe that specialists are vital to our success. Merosa gives educators with specialized training in French, Visual Arts, Drama, Music, and Physical Education, as well as Math, Language, Science, and Social Studies from grades 3 to 6. Merosa values the arts in addition to our commitment to essential subjects. By upgrading our Music Room and Drama Studio, we are continuing to cultivate and nourish the creative disciplines.
ANTI-BULLYING POLICY/NONDISCRIMINATION POLICY:
Merosa Academy prohibits any discrimination, harassment, intimidation, and bullying of any student based on the student's actual race, color, ancestry, national origin, ethnic group identification, age, religion, marital or parental status, physical or mental disability, sex and gender.
Our School is large enough to support a diverse range of academic and extracurricular opportunities, but small enough to foster the connections and relationships that enable our students to succeed.
If you're a secondary school student right now, you're actually in a fantastic place in your life. You have the rest of your life ahead of you. And right now is a fantastic time to begin thinking about your future and to make some preliminary preparations; just keep...